At Beitler Final Mile, we developed the Beitler Advantage for our customers and our commitment to Integrity, Honesty, Honor, and Professionalism.
Our goal is to become an extension of our customer's transportation department through various shipping services from retail pool distribution, LTL freight services, and backhaul shipping.
TAKING ACTION
To meet our objectives, we created processes and procedures to meet each initiative set by our customers. 
To create result-oriented solutions, we establish Key Performance Indicators to Collaborate with our customers, Communicate goals, Internally communicate with team members,  Manage results, and Monitor and evaluate the performance of team members.
Make our customer's problems our own
Continue to measure our performance and cost
Constantly review market challenges and make necessary adjustments
 Transportation Provider Benefits
We focus on providing our customer's superior transportation services to help streamline your shipping process.
Competitive Pricing
We will provide you with the most competitive pricing available for your transportation service.
Flexible with Last Minute Changes
With a proven record of getting the job done right, we can adapt to changes quickly and accurately to meet your needs.
Longevity and Experience
Through our affiliated company, W.J. Beitler Company has 100+ years of bringing experience, trust, and follow through on every job.
Ongoing 24/7 Support
When you call, we answer! We understand circumstances change, and you can rely on the Beitler Final Mile team for help.
Service Areas
We provide transportation services to virtually every market in the U.S. and Canada.
Single Point of Contact
You'll work with a familiar Beitler Final Mile face throughout your order process.
Our Portfolio of Transportation Services Available
With decades of experience, we offer the below 3PL services.
Backhaul Shipping
Dedicated Fleet Services
Expedited Truckload
High-Value Truckload
LTL Freight Services
Multi-stop Truckload
Pool Distribution
Truckload Point-to-Point
Available Equipment
53′ Trailers – Liftgates available

26′ and 24′ Box Trucks with Lift-gates

High-cube Cargo Vans (Sprinter Vans)
We guarantee quality service. We'll meet and exceed your expectations.
Maintain product integrity 

Ensure proper handling, storage, and distribution 

Continue to add facility enhancements

Utilize over 250 individual standard operating procedures

Develop a Standard Operating Procedure (SOP) for each customer  

Ensure all business partners review each SOP

Have certified associates

Continue to learn and grow from our 100+ years of experience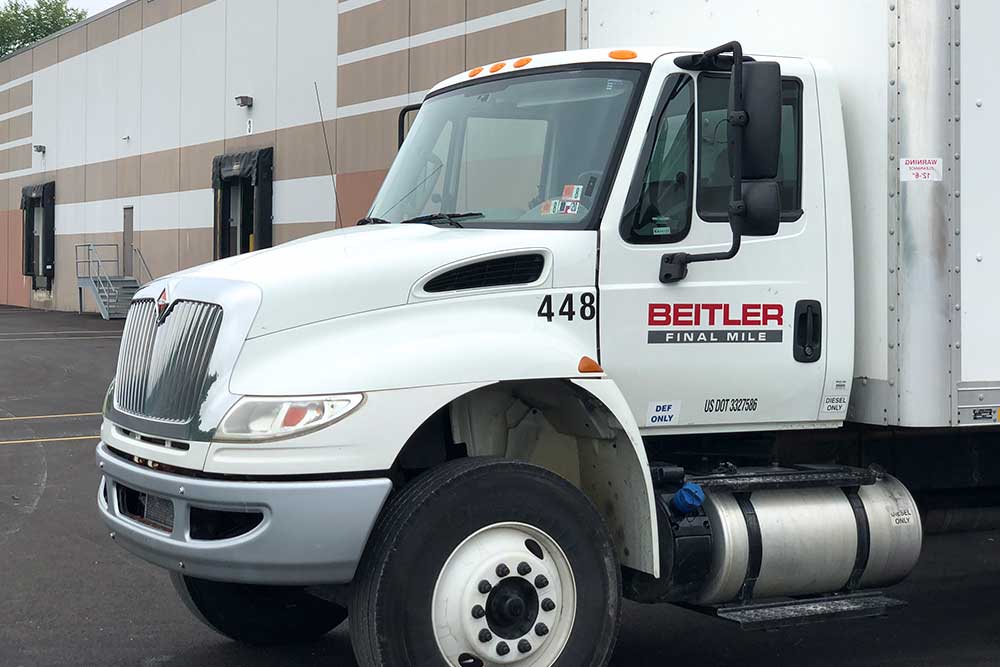 Get Started with the Beitler Advantage
We move beyond the typical third-party logistics providers and provide superior logistics!
Connect with us today and experience the Beitler Advantage!